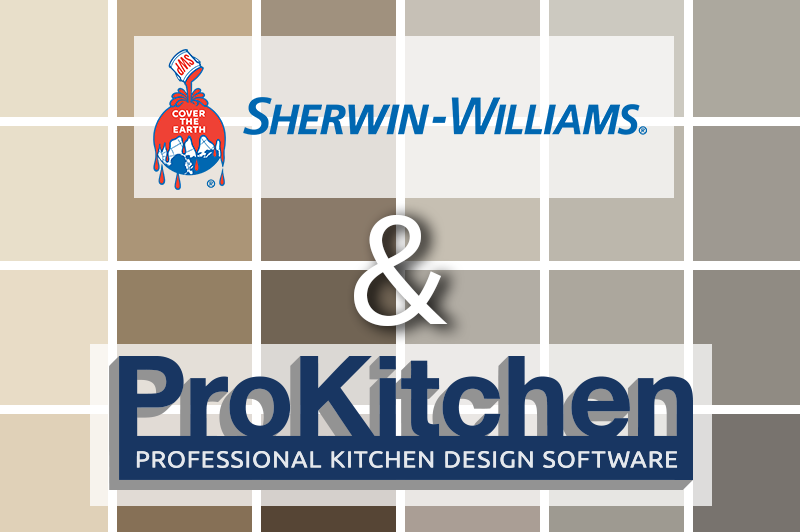 With over 20 manufacturer catalogs that offer Sherwin-Williams cabinet finishes, your custom design options are endless!
ProKitchen Software is thrilled to have partnered with Sherwin-Williams to provide our customers with an improved, expansive collection of cabinet finishes and wall paints. The most popular cabinet paint colors are available for use in cabinetry design, and the most popular paint colors are available for use as a texture on all surfaces, including user shapes.
Each of these cabinet manufacturers offer a variety of Sherwin-Williams cabinet finishes.
Cabinet finishes are available as an option in each of the catalog Global Design settings.
Sample Imperial
Sample Metric
Bishop Cabinets Framed
Bishop Cabinets Frameless
Harmony Cabinetry
Bridgewood Catalog
CWP
Decora Cabinetry
Designer Choice Framed 9_13
Dura Supreme Alectra
Dura Supreme Bria
Dura Supreme Crestwood
Dura Supreme Designer
Executive Cabinetry
Greenfield
Kith Kitchens
Debut
Legacy Crafted Cabinets
MidContinent Cabinetry
MidContinent Pro Series
Norcraft Catalog
Wolf Designer Cabinets
Pioneer Cabinetry
Showplace EVO
Showplace Wood Products
Landmark
Tedd Wood Luxury
Tedd Wood Vision and Custom Line
Forevermark
Timberland
Urban Effects
Wellborn Distinctive Storage Solutions
Wellborn Cabinet
Wellborn Forest
Woodharbor
Artizen Cabinetry
Eclipse
Shiloh Cabinetry
Start designing with Sherwin-Williams paint colors and cabinet finishes with ProKitchen Software!
Learn more about Sherwin-Williams.