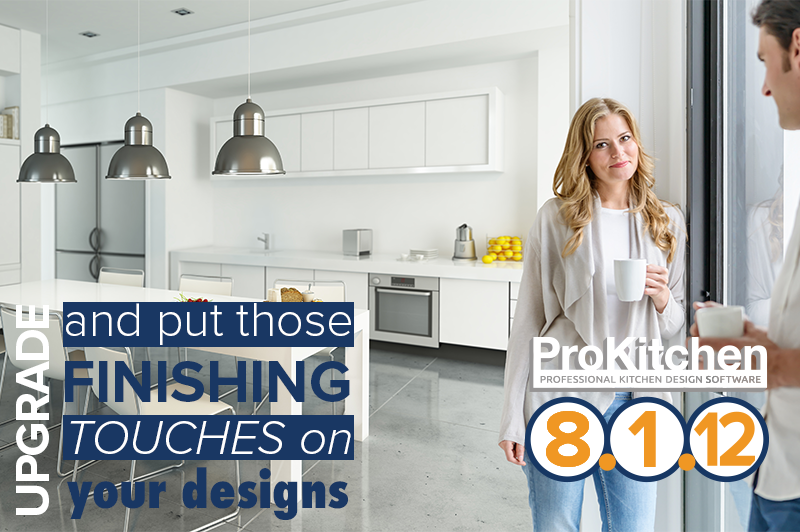 Update today to access new & improved features in your ProKitchen Online and ProKitchen Standard software!
We would like to let you know that ProKitchen Update 8.1.12 has been released for ProKitchen Online and ProKitchen Standard versions. Please use the automatic update button in ProKitchen Standard to have this update downloaded and installed automatically. ProKitchen Online users will receive this update automatically through ProKitchen's Instant Catalog Technology.
Features included in the ProKitchen Standard & Online 8.1.12 release:
3D Door Wizard
Added new feature 3D Door Wizard, similar to the 3D Window Wizard. This wizard provides a multitude of completely configurable door options to completely customize your design. Configure your room doors to your specifications and save them for future use.
Save Doors & Windows to My Doors/My Windows Catalog
Save custom, configured Doors & Windows to the My Doors/My Windows Catalog. Simply edit the default window or door in the appropriate wizard and then save to My Doors/My Windows Catalog for easy access in future designs.
Customizable color choices
Customize your color choices for Cabinets, Moldings, Fillers, and Accessories. Right-click on the item to customize your color choices. The same can be done with multiple selections or groupings (by lasso). The copy catalogs are created automatically. If changed to a different catalog, global options will open automatically.
Assign custom pricing to Sample & Custom catalogs
Assign a custom price to products and global options in both of the Sample and Custom catalogs. These assigned prices are saved automatically for future designs.
ProKitchen in Spanish
ProKitchen, now available in Spanish. Toggle your language from English to Spanish and back again in Default Settings > General Tab > Language.
Saberis EDI Integration & Bis Trak EDI Integration
Missing catalogs install automatically
While opening existing designs, the missing catalogs will now install automatically. The missing catalogs will be detected and installed automatically, including the copy catalogs if they were used. A restart is not required unless the catalog cores were updated since the last time the design was opened.
Uninitialize Catalog option
Added the Uninitialize Catalog option to the left panel catalog window. Now you can uninitialize catalogs in the left panel with the click of a button. You can always initialize the catalog again when needed. When a catalog is uninitialized it will show in the left panel as greyed out and its position will be moved out of the list of initialized catalogs.
3D HD Rendering improvement
SketchUp 3D Models improvement
Improved SketchUp 3D Models Import. Added 64 bit format.